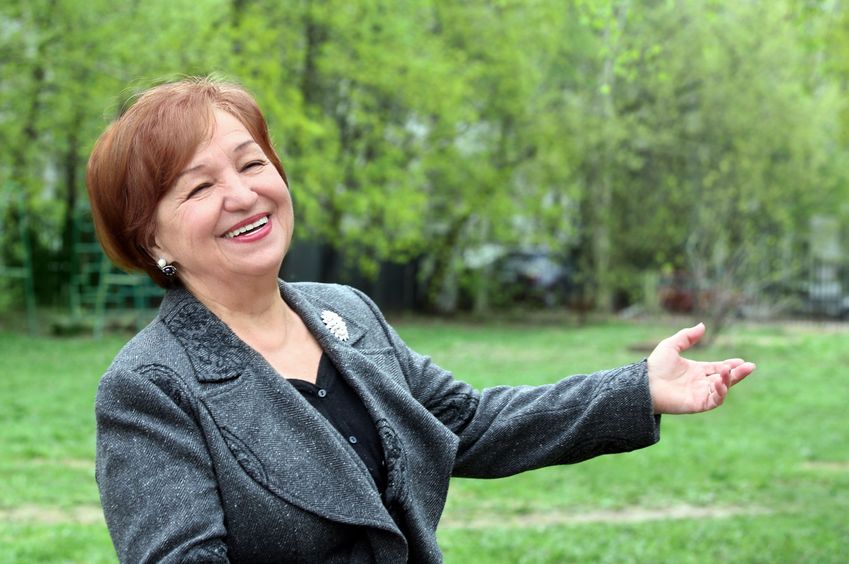 Dear wonderful woman,
The years speed by, just like this journey we've been on, celebrating women who are turning a new decade. I hope you are able to catch glimpses of your own life as reflected in the lives of these gracious women.
Looking back, when I was 15, I wondered if I would ever be a bride or have children. I didn't think about being 80. I didn't think of a career beyond motherhood, and I didn't think about the details of the struggles and joys "normal†life places on our doorstep. But who could know this? In fact, if I had a nickel for every time someone said, "I didn't expect my life to be this way,†I'd be rich!  I know I'm in good company.
When I met Marilyn at the Arizona P.E.O. State Convention in May, I found her engaging, full of energy and optimism. And then she told me she was going to be 80. No, that can't be! She seemed far too young at heart. She talks about her life today as a reward and gives us a new perspective of how it feels to be 80, with advice worth sharing.
When I asked Marilyn about herself she said: "I was born in Negaunee, Michigan in September of 1936. After high school graduation, I went to college and received my RN degree in nursing. I married Jim Pinkerton in 1958 in New York city. Jim's work allowed us to live in Wisconsin, Minnesota, Nebraska and South Dakota. I worked as a nurse in several hospitals. We had two children and both are married with two children of their own. In 1974, we moved back to Chanhassen, Minnesota. We retired in Bonita Springs, Florida and then in 2012, moved to Scottsdale, Arizona.
"I was given the gift of P.E.O. [a Philanthropic Educational Organization] in 1972 and am currently a member of Chapter D.N. in Arizona. I helped start a new P.E.O. chapter in Estero, Florida—Chapter IR. It was a joy to be part of  growing P.E.O.!â€
Here's how Marilyn answers the four questions:
What have you learned so far?
"Most important is family/God/Country. Your family, as you grow older, becomes so important. They bring you joy, pride and loving care. We need our faith to give us peace, knowing we are not alone. We live in a great country and I'm so proud to be an American.â€
What thoughts go through your head as you step into the new decade?
"I've had a great life. My dreams came true. From childhood, I wanted to be a nurse, to marry a great mate; to have a family and be a good person. It all came true. I became an RN, married for 58 years, have two children and four grand children, all successful and beautiful.
"Both Jim and I are healthy enough to care for ourselves and able to learn new things. We read, use our computer and cell phones, and best of all, enjoy our family.
"I have volunteered most of my life, helping people. At age 78, I started a new adventure, working at Silverado Memory Care Center. Alzheimer's is a terrible disease that is becoming our nation's leading illness. When caring for the residents, I give my heart and respect; I pray I would be treated the same in that situation. We must work hard to find a cure. It breaks my heart to see grieving families watch their loved ones deteriorate, knowing there is no cure.â€
What are your plans and goals for the future?
"I plan to live an active life, always learning and never feeling old. I love my life and I know I will always have my P.E.O. sisters no matter where I live. I will always try to be a good person and enjoy my family.
"Life is not always easy, but my husband Jim and I have never lost our love and respect for one another and our life, now, is our reward. I will never think 'old,' continue experimenting in life, and have my many memories to make me smile.â€
What do you worry about?
"As I grow older, I fear that health issues will affect me and my husband. We want to take care of ourselves and be able to enjoy our family and friends. I work with people who have dementia and Alzheimer's and know how frightening that can be. Each day we hope an Alzheimer's cure will be discovered. I have seen TB, Polio and HIV take loved ones, and now there are cures; and I pray an Alzheimer's cure will occur in my lifetime.
"Secondly, I am also fearful of what is happening to our country. Some of our young people don't seem to know what made America the great country it is. Our country thrived on hard work, obeying the law, and taking responsibility for one's family and actions. Many young people can't  find jobs that pay enough to take care of themselves or a family. We must educate and retrain people.
"Third, I fear that big government is taking away our basic freedoms. They want more laws but don't enforce the laws we have. The people in office tell the public things that aren't true and spend money we don't have. The world is changing and America must be strong to protect the citizens. We must love our country and have faith in its future.â€
*********
No wonder Marilyn is so young! Instead of thinking she's too old to learn 'new' technology, she jumps in. She's using her nursing skills and natural compassion to make life better for others, and enjoys her growing family. As they say, the right attitude brings you to a higher altitude—and Marilyn soars with vitality!
When we give generously, we receive so much more. She speaks of P.E.O.,  an international organization that actually owns a girls' college (Cottey College in Nevada, Missouri), and also offers scholarships, grants and loans to women who want to earn degrees at other colleges. The goal is to improve the lives of women and children—and in turn, the society. Not only has she helped with this worthy goal, Marilyn has collected a host of life-long friends.
Marilyn's life inspires us to live each day with gratitude; to reach out to those who need  encouragement and support. Perhaps that's also her fountain-of-youth secret. You make us smile, Marilyn!
May your story of life build your confidence,
Jan
PS. If you missed reading about the other women in our series, here they are!
10-Bailey: "I used to play on an all boys soccer team and I was the only girl. I had to play a little more physical than how I play on the girls' team now but I'm really glad I did it. I think it made me a better player.â€
https://whalenvoices.com/2016/07/01/celebrate-10-years-of-life-with-bailey/)
20-Kat: "I am trying to do things that make me happy and I'm trying to stay off of Netflix. No good story started out with, 'This one time, I was watching Netflix and….'â€
https://whalenvoices.com/2016/07/08/celebrate-turning-20-with-katrina/)
30-Niamh: "I'm scared and excited to find out what this next decade has in store for me, but I'm strapped in and ready to take the next ride.†https://whalenvoices.com/2016/07/15/celebrate-turning-30-with-niamh/
40-Tinisha: "My greatest successes are those that I did not think that I could achieve. There is something extra rewarding in turning your 'I cant's' into 'I cans.'â€
https://whalenvoices.com/2016/07/22/celebrate-turning-40-with-tinisha/
50-Dawn: "Life is about celebrating the little things, special moments, important people, and making memories.†https://whalenvoices.com/2016/07/29/celebrate-turning-50-with-dawn/)
60-Linda "Taking a holistic approach to life has made this transition into a new decade much easier. It has been a time of reflection. It has been a journey of self-actualization.†https://whalenvoices.com/2016/08/04/celebrate-turning-60-with-linda/)
70-Lee: "I have continued to be surprised and grateful that the core of my being has proven resilient; able to withstand adversity, sadness, grief, guilt, failure and setbacks.â€
https://whalenvoices.com/2016/08/10/celebrate-turning-70-with-lee/)