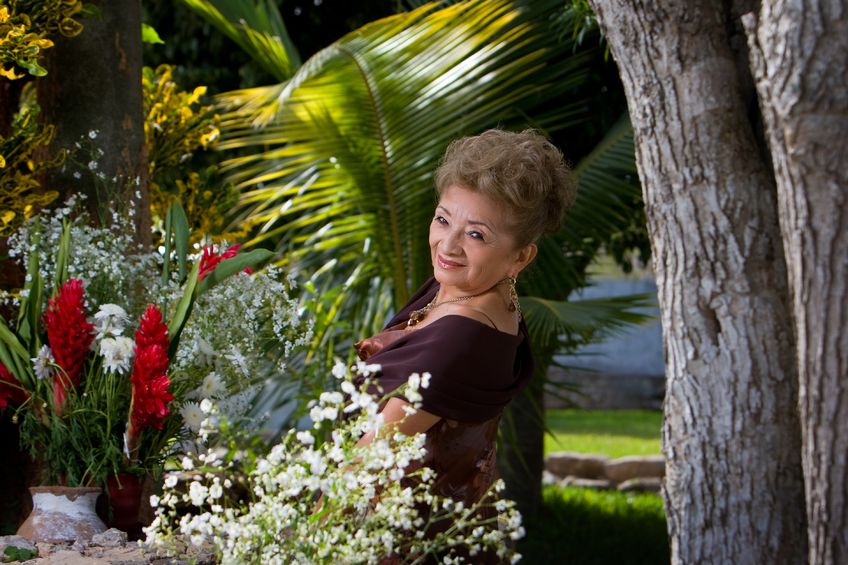 Dear resilient woman,
Last night, my brother, Dr. Len Whalen who lives in Florida, called me about our series on age. As an avid supporter of the Whalen Voices blog, he made an interesting observation about people in general, inspired by the inspiring women we've been featuring this summer.
He said that there seems to be two types of people in the world: One type lives a routine life, resigned to the way things are; the second type looks for new things to enjoy and experience—travel, serving in the community and adding value for everyone.
I couldn't agree more. Some give up on life while others are like Linda, who enjoys each day of her 9th decade. I predict you will fall in love with Linda!
One of her daughters said, "Mom is 92 years young and still a fabulous role model, teacher and mentor. Prayers throughout the day keep her heart filled with love and joy; she is thankful for her many blessings. She is an adventurous, strong willed, savvy business woman and is the foundation of our family. She is as strong, determined, independent and courageous as she was at 30. Mom is an inspiration to La Familia Garza.â€
Here's how Linda answered the four questions:
What are the most important things you've learned so far in your life?
"The only thing I have learned is to take care of yourself, and mind your own business and you'll come out ahead. The best way to stay in control is to keep your mouth shut! If you mind your own business you'll live better. Learn from your mistakes because you don't want to make the same mistake over and over again. By now, you should be old enough to know what to do.
"You cannot get any younger, so do what you know is right. Do what you think you deserve. I think I deserve new ideas; stay with your good ideas. It's your ideas and outlook on life that keep you young. Be positive to stay positive and never change this positive outlook.
"With God's blessings, good eating and not worrying about anything, I approve of, and appreciate my life. I pray to God everyday to correct me if I'm wrong. With what you've done at 90, you should be able to contain your good and bad experiences. At this age you've already been satisfied with your life. You've already done what you wanted to do because of God's strength, ideas and guidance. Everything is marvelous!â€
What thoughts went through your head as you stepped into this new decade? Are you doing anything special to mark this new time in your life?
"Nothing bad goes through my head because I think I have always done the right thing. Be reasonable and everything will go right. That's why I worked so hard. I helped my husband with our family business, a tortilla and USDA tamale factory, for over fifty years.
"The USDA inspector told me at the age of 70, 'You're old. Don't work so hard.' I had a passion for keeping the factory clean and I'd stay late to make sure it was spotless. Not because anyone told me to do it, but because I wanted to. It was in my blood to work hard because of my father's good example. Whatever I do, I do with passion.
"On my 90th birthday, my family and I enjoyed a nice dinner at Flemings—peaceful and quiet—feasting on filet mignon and lobster. God has blessed me and my family, and I thank my daughters and son for helping me.â€
What plans or goals do you have for the next years?
"I plan to keep on doing what I'm doing. I begin each day with a daily affirmation to start my day on the right path. I end each day with a prayer thanking God for another good day.
"Eat healthy and eat slow, and keep on enjoying each day. I still enjoy shopping and going out to eat. I love my daughter's home cooked meals, and looking at the birds and beautiful roses outside my kitchen window. Every now and then I enjoy a Coronita. As long as I live and God is willing, I'd like to live as long as my grandmother, 102!
"My family keeps me aware and apprised of my personal and home decisions. We have regular monthly meetings and manage our home and financial decisions as a business, discussing old and new business. Thank God we ran our family business for over fifty years so we have lots of experience. Most of all we have integrity, respect and love for one another, and we help one another.
"I feel well satisfied with my children and my life. I think I've been a good example for my children, a good leader and teacher, and my children have followed. We love one another. Whatever we do, we do with love."
What do you worry about?
"Nothing, I don't worry about a thing!â€
***********
Linda has it all! Faith, family and love surround her. Her strength, determination, confidence and strong work ethic radiate from the page as she speaks. No wonder she has no worries!
Although certainly starting and maintaining a family business had its challenges, the La Familia Garza designed a blueprint for teamwork; one that has stood the test of time and can be held up as a model—not only for success in business, but also for good living.
Linda has thrown off the weight of regret. She lives in her own 'lane' with a longevity goal that will take her into another decade. I agree with you Linda. You have been richly blessed, and grace the world as a guiding star with a brilliant legacy.
I'm sure Dr. Len will enjoy reading about your life and recognize you as a perfect fit in his second category of dynamic women of the world. Thank you for sharing your inspiring perspective with us.
May family and others who support you build confidence,
Jan
P.S. Here are links for the other women in our series:
10-Bailey: "I used to play on an all boys soccer team and I was the only girl. I had to play a little more physical than how I play on the girls' team now but I'm really glad I did it. I think it made me a better player.â€
https://whalenvoices.com/2016/07/01/celebrate-10-years-of-life-with-bailey/)
20-Kat: "I am trying to do things that make me happy and I'm trying to stay off of Netflix. No good story started out with, 'This one time, I was watching Netflix and….'â€
https://whalenvoices.com/2016/07/08/celebrate-turning-20-with-katrina/)
30-Niamh: "I'm scared and excited to find out what this next decade has in store for me, but I'm strapped in and ready to take the next ride.†https://whalenvoices.com/2016/07/15/celebrate-turning-30-with-niamh/
40-Tinisha: "My greatest successes are those that I did not think that I could achieve. There is something extra rewarding in turning your 'I cant's' into 'I cans.'â€
https://whalenvoices.com/2016/07/22/celebrate-turning-40-with-tinisha/
50-Dawn: "Life is about celebrating the little things, special moments, important people, and making memories.†https://whalenvoices.com/2016/07/29/celebrate-turning-50-with-dawn/)
60-Linda "Taking a holistic approach to life has made this transition into a new decade much easier. It has been a time of reflection. It has been a journey of self-actualization.†https://whalenvoices.com/2016/08/04/celebrate-turning-60-with-linda/)
70-Lee: "I have continued to be surprised and grateful that the core of my being has proven resilient; able to withstand adversity, sadness, grief, guilt, failure and setbacks.â€
https://whalenvoices.com/2016/08/10/celebrate-turning-70-with-lee/)
80-Marilyn: "I will never think 'old,' continue experimenting in life, and have my many memories to make me smile.â€
https://whalenvoices.com/2016/08/19/celebrate-80-with-marilyn/)