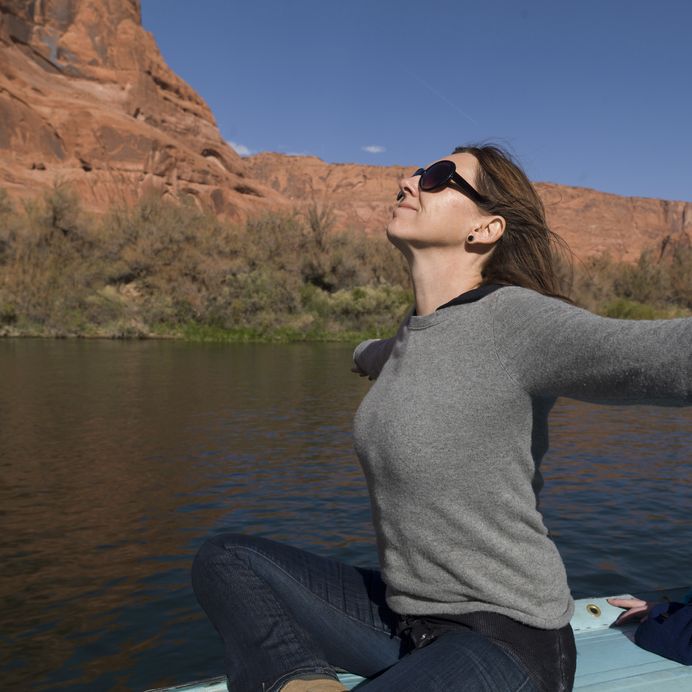 Dear beauty,
Today we feature a woman who is 'pushing' fabulous forty. I find it encouraging that as we age, we gain so much and Tinisha's life reflects that wisdom.
Tinisha was born in the Chicago area but moved to Phoenix in 1999. She, like many of us, wanted to live in a warmer place. She says,â€I was in a relationship that lasted a minute, and chose to stay.†She raised her young  son alone and worked as a bartender (aka professional listener) in Tempe—running a tight ship and living a happy single life—until a client, Mike (an avid Nebraska fan) asked her out.
As of this month, they've been married seven years and share the joys and responsibilities of a six year old son. Tinisha entered school a couple of years ago, but didn't tell anyone until she knew she could do it. Her first 4.0 grade convinced her that she could leap any educational wall. As you read her words, you'll notice that she's strong with a positive, practical way of looking at the world.
Here's how she answered the four questions:
What have you learned so far?
"At pushing forty, I've learned that life is fleeting. I look back at my life and it all just feels like it was yesterday. I recall being a child and wanting to be grown, and here I am. To the kids I'd say: enjoy your hours of playtime and all those naps, having someone else do your laundry, and pay the bills. There will be plenty of time for adulting later. To the young girl about to start living her own life: take chances, make mistakes. You'll learn more from them than things that come easily.
"I've enjoyed every decade of my life, some years more than others. I try to live my life without regrets, taking the good with the bad because I know that all of them help make up me. As cheesy cliche as it sounds, "That which does not kill you, will make you stronger.†Take all the knockdowns as a challenge to get back up and be stronger. My greatest successes are those that I did not think that I could achieve. There is something extra rewarding in turning your 'I cant's' into 'I cans.'
"You don't get too many second chances, so carpe diem. Do what makes your heart happy. Keep learning. Give back when you can. Be someone you'd want to know.â€
What thoughts do you have about your 40s?
"As I approach this new decade in my life, I wonder how will it be different from the last. I've loved my 20s and my 30s. What do my 40s have in store for me? I look back at how much I've changed, grown over the years. What changes and growth are in store for me? I also think of my family, especially my boys—one is in his early twenties and the other just six. What does life hold for them? What does life hold for my husband and me?
"I'm currently in school. Getting my degree is definitely taking me longer to accomplish than I had anticipated. I guess that is just all part of my journey, right? Once I'm accepted into my sonography program it will be another two years to complete. It will be a grueling two years, trying to juggle a full-time school schedule, work, and family, but I'm going to stay focused on the light at the end of the tunnel. It's just two years.
"Another goal of mine is to continue to get a grip on my Hashimoto's. I was recently diagnosed with this auto-immune disease after knowing for years that I had an under-active thyroid. At thirty I quit smoking, which of course caused me to gain weight. At the same time though, I started working out on a regular basis and was able to lose the weight rather easily. After the birth of my youngest son, losing the weight was an issue. It seemed that no matter what I did, changes even to my diet, I just kept gaining weight.
"A visit to a Naturopath has given me not only answers, but hope. After going gluten-free (it kind of pained me to be so trendy), I lost THIRTY pounds. Going gluten-free is the easy part, it's everything else that is recommended that I avoid that is difficult—soy, grains and dairy.
"Eating clean is HARD! What's even harder? Hearing comments from people about how I'm too skinny. I never would have thought that I would have to defend my healthy lifestyle; what I do is for the sake of my well-being.
"But, I'm focused. I need to be. Fact is, once you have one auto-immune disease, the more likely you are to get another. And I'm not going to accept that in a sedentary position, stuffing my face with all the processed goods I can manage. I want more from my life than Hashimoto's has to offer.â€
"Being me, I think birthdays should be celebrated. I had a party at home with friends and family who flew in from out of town. My husband also planned a dinner party with some other friends and family, 'cause when you're turning forty, you should have two parties, right? Go big when you can.â€
What do you worry about?
"I've had more than my fair share of loss in my life. I was twelve the first time someone died who I cared about, followed by too many friends over the years. My mother also passed away a few years ago; she was only fifty-eight. I don't know if that has caused my fear of dying at an early age, or if that is something most people just worry about.
"I worry most that I won't be around to see my children grown, having babies of their own. I worry that when I am gone, who will keep my memory alive? I've seen far too many times when someone dies, people don't talk about them, maybe 'cause it's just too painful. I don't want that to be the case for me, especially in regards to my boys.
"I don't want to be someone who looks back on their life and wishes they had done more, lived bigger. I wonder what my mother, and friends, wished they would have done? I think that is what drives me to experience all that I can. Life is just way too short not to soak it all in. So dream big, love deeply, and laugh as often as possible. You never know when today is your last day.â€
*******
I love the strength of Tinisha's voice. Who could forget such a woman, ever? She is focused and determined to live each day, not just endure it. My heart goes out to those who lose their moms at an early age. Moms serve a vital role in our lives, but we don't know it until they're gone. It's ironic how the experience of death motivates us to really live.
With each passing decade, we see more deeply, more clearly into the nature of life. At 40, Tinisha speaks of concerns for her two children, and the common challenge of getting an education while managing the many duties of her personal life.
She mentions that her degree will take "just two years.†Doing the math, that's 1/20th of her life. For a 10 year old, it would not only seem to be a greater mountain to climb, it is equivalent to 1/5 of that lifetime.
Tinisha realizes two years is a short amount of time and she has the confidence to know she can endure the pressure she'll face during that time. Yet, the benefits of reaching her educational goal (and beyond) far outweigh the challenges.
Who could forget a woman of such integrity? Thank you for sharing your adventure with us, Tinisha.
May wisdom support your confidence,
Jan
PS. If you missed the first three Celebrate Age blogs, here they are:
10-Bailey: "I used to play on an all boys soccer team and I was the only girl. I had to play a little more physical than how I play on the girls' team now but I'm really glad I did it. I think it made me a better player.â€
https://whalenvoices.com/2016/07/01/celebrate-10-years-of-life-with-bailey/)
20-Kat: "I am trying to do things that make me happy and I'm trying to stay off of Netflix. No good story started out with, 'This one time, I was watching Netflix and….'â€
https://whalenvoices.com/2016/07/08/celebrate-turning-20-with-katrina/)
30-Niamh: "I'm scared and excited to find out what this next decade has in store for me, but I'm strapped in and ready to take the next ride.†https://whalenvoices.com/2016/07/15/celebrate-turning-30-with-niamh/