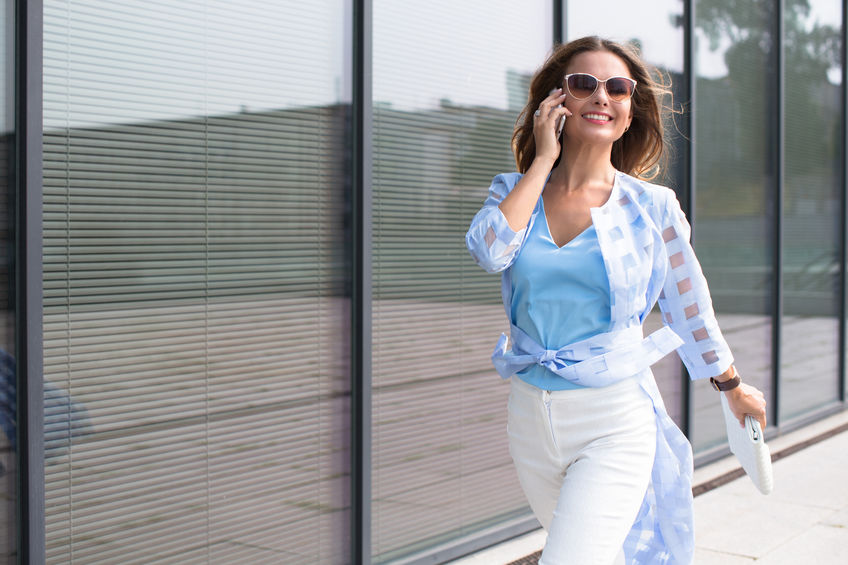 Dear very cool woman,
Are you enjoying our journey with women who are stepping out of one decade of life and dancing into a new one? Our third fascinating woman, Niamh (pronounced NEEV) gives us a glimpse of her world at 30; and with three decades of living to her credit, she has much to show us.
You won't be surprised that a woman named Niamh was born in Dublin, Ireland. This is what she tells us about herself: "I am the youngest child in my family and have one older brother, Stephen. He's 34. I grew up in a village southwest of Dublin city centre, called Clondalkin. My parents now reside in a village called Kill, Co. Kildare.
"After my post-primary education at Colaiste Bride, Presentation Sisters School, Clondalkin, I pursued a degree in General Arts studying subjects that included, anthropology, psychoanalysis, philosophy and media studies. By the end of my first year in college I decided to switch schools to pursue the media/marketing route solely. I earned a B.A. (honors) in Media Production Management (Communications) from Dublin City University (DCU).â€
What are the most important things you've learned so far?
"I've learned that in order to be respected you must show respect. That might sound cliché but I think this is one of the most important things I've figured out in my 30 years.
"I also learned that I'm resilient, even in times when I thought I didn't know how to be or couldn't. As human beings we are incredibly strong people and we often doubt our ability. I'm not a cocky or arrogant person but with age I believe we develop a level of confidence that comes with life, and if I had of thought the way I do now in my early 20s, things may have been a little different, but no regrets—I'm glad of the life experience and what doesn't kill you makes you stronger. I mean that in the most sincere way possible."
As you think of stepping into a new decade, what thoughts go through your head? Are you doing anything special to mark this new time in your life?
"I hope to continue to grow as a person and broaden my knowledge of different cultures through travel and experience. I'm scared and excited to find out what this next decade has in store for me, but I'm strapped in and ready to take the next ride. I want to continue to grow professionally and see where my career path may take me.
"I want to make a contribution to society, whether it be through volunteerism or in the professional work that I do. I enjoy helping others and giving back in some shape or form as I know that every little bit helps. I think if we all thought like this and a little less of ourselves we could make a big impact.
"I'm not doing anything particularly special but I made a promise to myself to be present in my thoughts, more mindful—not to sweat the big stuff as it will all fall into place. I'm a big believer in destiny and I know everything happens for a reason.â€
What plans or goals do you have for the next few years?
"I'd like to start a family and hopefully all the stars will align for me. I'd like to learn a new skill as I think learning is key to being the best human you can be. I'd like to see where that skill will take me. If I continue to grow my life in the U.S., I'd like to visit a new state every year. But most of all I strive for a happy, balanced life and good health.â€
What worries do you (and others your age) have?
"From a superficial standpoint, I think my peers and I worry about financial burdens. Sometimes it can seem a lot: mortgage, car payments, insurance payments, bills, bills, and more bills. But I know this is just part of being an adult and also a privilege to have my own roof over my head and a car on the road. We're also starting our families much later than ever before, I know my worry and the worries of my friends are that it will all work out.â€
**********
I love the way Niamh looks at life. Her words reveal a woman who has experienced a decade of "being an adult†and maintains a positive view of life. Even though she does not mention specific struggles, she indicates she'd make different choices, in hindsight—but those decisions made her stronger.
Dad used to say, "You can't put a 40 year old head on a 20 year old.†I never knew what that meant, but now it makes perfect sense (like other things he said that sounded wacky at the time). Without living, loving, getting our toes stubbed, and our hearts broken; we don't know what we don't know. But living fully is the best teacher if we pay attention.
Our learning comes from the mistakes we make—and most importantly, if when we get knocked down by a bad choice or any circumstance that just happens to us, we take a little time to ask a few question before getting back up, (What happened? Why? What part did I play in this? How can I avoid this in the future?) then we learn.  The result is wisdom.
At 30, Niamh has taken a few risks; moving to a new country must certainly be one of them. Risks bring us out of our comfort zone. The best part is, when we discover our resiliency, we start looking around for other adventures. The cycle of living a full life brings us to new lands, new opportunities and the question, "What else is out there for me to discover?â€
Growth makes 30 a sweet age to experience. Thank you for letting us see this age through your eyes Niamh!
May your hope for a better tomorrow support your confidence,
Jan
PS.In case you missed the first two blogs for women from 10 to 100 in this series, here they are so far:
Celebrate 10 with Bailey: Â https://whalenvoices.com/2016/07/01/celebrate-10-years-of-life-with-bailey/
Celebrate 20 with Kat: Â https://whalenvoices.com/2016/07/08/celebrate-turning-20-with-katrina/