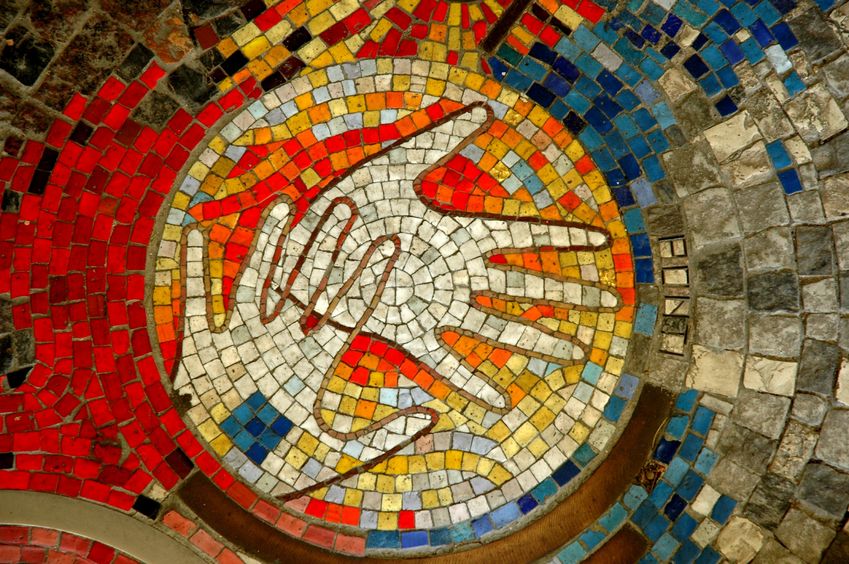 Dear amazing woman,
It's fun to find a good people-watching place. Our outdoor table in Vegas provided the perfect venue to observe a colorful parade of characters. I couldn't help wondering about them. What was their story?
Maybe that's why I love to share the stories of the women in my corner of the world. Today's guest author is no exception. Teresa, a therapist—who's heart is as big as an Arizona sky—reflects upon her life:
The Mosaic of Life
by Teresa J. Hare, MSW, LCSW
Recently I have been tuned into an audio series called Fifteen Minutes of Miracles about women who are speaking about their biggest turning point in life and how it transformed them. If someone asked me this question, I would have to search the many notable events that make up my life.
Would it have been when I moved from New England to the Southwest in my early twenties, which turned out to be a permanent move? Or maybe the loneliness I felt in my marriage? Or my transition when I boldly gave up a safe, familiar career in business to transition into the helping profession after 9/11? Although these and other life events gave me a sense of adaptability, I grieved the endings and losses they brought—often long after the events themselves.
Touching briefly on the loneliness in my marriage, our honest conversations eventually brought me closer to my partner. Many feelings were deeply rooted in childhood, so risking intimacy took time. Not immediately, but gradually, we learned to adjust ourselves and respect our differences. Bringing the pieces of each other into a greater togetherness—all the while maintaining our individual selves.
Throughout notable events and changes in my life, I have learned how to be resilient. I honor my boundaries, spend time in nature, meditate and pray. I reach out to others and give back, exercise and get enough sleep. These life skills have helped me develop effective strategies to use when the scale of life tips.
As a therapist, working with a variety of clients, I encourage recognition and acceptance of the mosaic that makes up our lives. Life can be messy. It's full of ups and downs, disappointments and celebrations.
What life skills do you practice? What does the mosaic of your life look like?
*********
I agree that resiliency cements the mosaic of our sometimes messy lives. We touch others each day, yet to truly be of service to them, our first responsibility is to pay attention to self-care, as Teresa has done. Some women fear being narcissistic, but I feel that most of us hold back self-love unnecessarily, and in turn, that limits what we are able to share.
Let your hands reach out in love for yourself, and then to those who cross your path, blessing all.
May your self-trust build confidence,
Jan