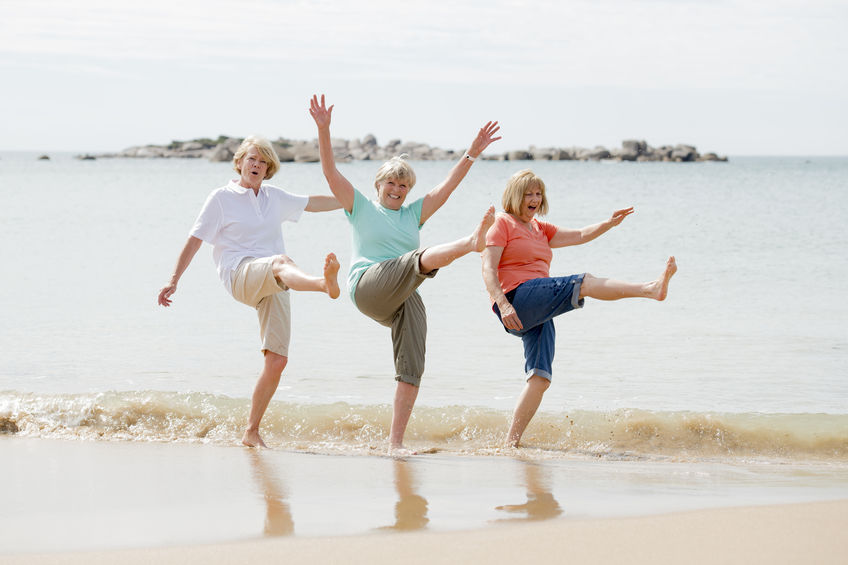 Dad used to say, "You can't put a 40 year old head on a 20 year old.†When I first heard him say that, I didn't understand what he meant, but I do now. He meant that time and maturity can't be rushed. There are lots of things to believe about age, and at least three things you might have heard are myths:Â
1. "Age is just a number." Well yes, we all have our number (AGE) and that's something I'm not going to dispute. However, it's more than JUST a number. With that number, you've earned moments, years and decades of experience and growth, of falling down—being broken apart and then getting back up again. With age, you know stuff. You have more days to understand the way the world works, and the people in it. Some call it schoolhouse Earth. Phrases like: "I wasn't born yesterday,†"This isn't my first rodeo,†and "Green around the ears,†says it all.
2. A full life is about 100 years. Life is a lot like an analog clock, with one trip around the clock representing a lifetime. We begin at the top and as time passes, we progress through childhood (2 o'clock) to middle age (6 o'clock) and the cycle concludes through to around 100 (12 o'clock). Life expectancy statistics tell us that not everyone will make it to 100 (which is too bad, because Grandma used to say, "The first 100 years are the worst.â€)Â
That explains why it's so very sad when a person in their 20s or 30s passes away. Somewhere deep inside, we believe that they didn't get their trip around the clock—their life was cut short. But the truth is, no person is guaranteed a certain number of years to live.
When interviewing women turning 10, 20, 30 all the way to 100 for You are the Perfect Age, I noticed that the 10-30 year olds spoke about the life they would live, while those 80-100 spoke of the life they had already lived. The truth is, we are all living each day NOW. Since we don't know how many years we have, it's best to cherish each day—making the most of the time we DO have.
3. Age is a progressive downward spiral. No! As the author of two published books about age and wisdom (You are the Perfect Age and Well Seasoned: The Beauty of Age), I find the necessity to walk my talk—as it were. So when I or my peers experience mental or physical challenges, I ask myself if I still believe that positive spin on age. The answer is nearly always "Yes.†With each announcement of bad health, I take a moment to growl, spit and curse the age gods, but then I ask myself: If there IS beauty in age, what is it? Â
There are so many things to love about our age, yet the best answer I can come up with is this: we are better able to handle adverse situations NOW, at our present age, than we could have 10 or 20 years ago. With purposeful living, we have a greater capacity to express love, to understand—at least in part—what others are going through, and to circle the wagons of compassion, rather than run away from friends when they are the most vulnerable.
Each age has its stages and norms. In my 20s, many were getting married; today, it's not uncommon to face physical and mental challenges. The body deserves to be honored and taken care of in gratitude for its faithful service. Looking honestly at our own mortality is the fast-track to appreciating each day, each person and each chance we get to show love for each other.Â
BONUS MYTH. Older is wiser Carl Koch, director of our Servant Leadership program at Prairiewoods, in Cedar Rapids, gave us a handy little formula and a sermon on wisdom:Â
Experience + Reflection = Wisdom
The opposite is also true:
Experience + Experience + Experience = A very old person who hasn't learned much
Sometimes when I see a really wise young person, I wonder about their life. Usually I discover some hardship, loss or parents who were extremely dysfunctional (more so than normal). These wise youth have been given responsibilities far beyond their years, and it shows.Â
Wisdom is also dynamic—and by dynamic, I mean it is ever changing. What I tell you I believe may change tomorrow based upon today's experiences, and how I process them. And the key here it to process/reflect on what's going on. We have more opportunities to be wise at a more seasoned age, yet wisdom is the property of those who seek it—at any age.Â
A reflective young person of 20 might not know what its 40 year old self will know, but growth keeps happening! Mom used to show me her plants. She knew they were healthy when she saw the new green leaves. Just like those plants, it's great to be alive, full of possibility.
My prayer for all of us is that our wisdom helps us be better prepare for the challenges LIFE presents now and in the future. Â
Would you like your own copy of my book Well Seasoned: The Beauty of Age? The 22 chapters of the book include thoughtful reflections on: Age, Self-worth, Confidence, Friendship, Writing and an interview with 103 year old Anna Marie Peterson. It's 9.95, but if you want a copy to give to your friends, ask me about discounts for orders of 5 or more. Email me at [email protected]. I promise you'll enjoy it!