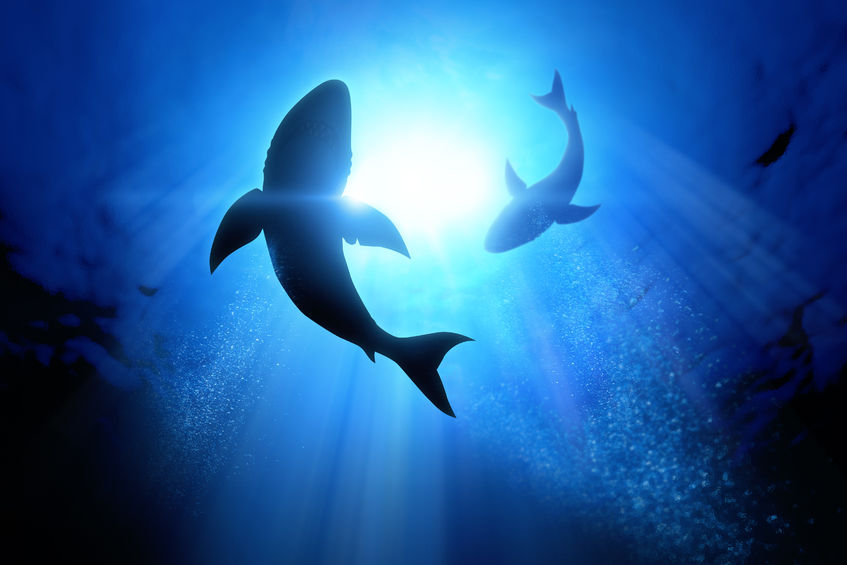 In honor of "Shark Week,†I'd like to say I've learned this fact: If it weren't for the shark events (problems) in our lives, we wouldn't have any lessons, spice or drama. In other words, our lives would be dull.Â
Yet we don't usually think of them in that light. Some of us are afraid to look at anything negative for fear of attracting more problems. Some (me included) sometimes think, Oh no, here's another problem. I don't like this. I don't want this to be happening to me, and just want everything to be peaceful and calm again.Â
We don't directly ask to have problems any more than we ask to swim with sharks—yet, they show up and we call it LIFE. It is definitely a part of life, yet when we say those words, we're often thinking: Sh*t happens.
I'd like to offer an alternative mindset.
Years ago, Chuck Long (former professional football player, Iowa Hawkeye quarterback and now college football coach) told me that, "All the great ones look at the challenges in their lives as a way to test their characters." I remember when he first said that, I realized that I didn't fit into his "great ones" category. Yet his words rang true and I wondered if I could change.
What I later discovered, was that those challenges (or problems or bad things that happen to us) DO make us whole, resilient and compassionate helpers in our community. So I began to encourage people to look at their own challenge and named these recollections SHARK STORIES. If you've never participated in my ocean themed story workshop, here's the general flow of a shark story:
The setting
The specific challenge
Reason it was difficult
What you first realized about this situation
Attitudes and Actions you took
How the challenge was resolved
What did you learn to do, or plan to avoid in the future
Here's an abbreviated Shark Story so you can see the list in action:
 (1) I was finally getting myself back together after my divorce. I had a home and plans to further my education, but then that letter came.
(2) It began, "Thank you for applying for admission to the University of Iowa….blah, blah, blah…. sorry to inform you that your admission has been rejected."Â
(3) I was angry, hurt and so ashamed, I hid this rejection from my Mom, who I visited most weekends. Should I fight this ruling like my friends recommended? Should I call someone to advocate for me? After all, I had been on the Kirkwood Community Board of Trustees and knew some powerful people. My educational goals are ruined.
(4) When I called the admissions office, they told me that the program I'd applied to required a 3.0 grade average — yet mine was a mere 2.67. The guy's tone of voice made me realize that their standards were set in stone, just as much as my GPA.
(5) But then I realized that UI wasn't the only school in the area. I drove to Cedar Falls to check out the University of Northern Iowa and began to cook up a new plan. Coincidentally, while browsing the Prairiewoods monthly newsletter, a tiny article on the 6th page caught my attention. It advertised a "leadership class.†But when I looked closer, I realized that Viterbo University was not offering a class, but a Master of Arts program right here in Cedar Rapids. I couldn't believe it, yet I called the director, Carl Koch, to confess that my GPA was not a 3.0. He assured me that grading systems had changed, and my real life skills were more important in their program.
(6) So I registered and in three years, I received my Master's degree.
(7) I learned that UI did me the biggest favor of my life by their rejection. The accolades I received for my writing through my Servant Leadership classes gave me the confidence to explore self-publishing, which set me on a whole new life path. In the future, I'll not be so upset about disappointments and in not "getting my way," because I have experienced the old saying that whenever one door closes, another (much better) door is just ahead, ready for my arrival. Â
So there you have it. The bottom line is: When you tell or write about things that haven't gone well in your life, remember to push through #4: The Challenge. DON'T stop there, even if you get sympathy from everyone around you. Go to # 5: Changing your attitude; #6: Solving the problem; and #7: Use the experience to enhance your CHARACTER.
Thank for the lesson, Mr. Chuck Long!
Let me know if you're interested in my guidance in writing your story. I have many levels of assistance and I'm developing on-line workshops on this topic! Just check out this website or email me at

[email protected]

and we can discuss your goals.