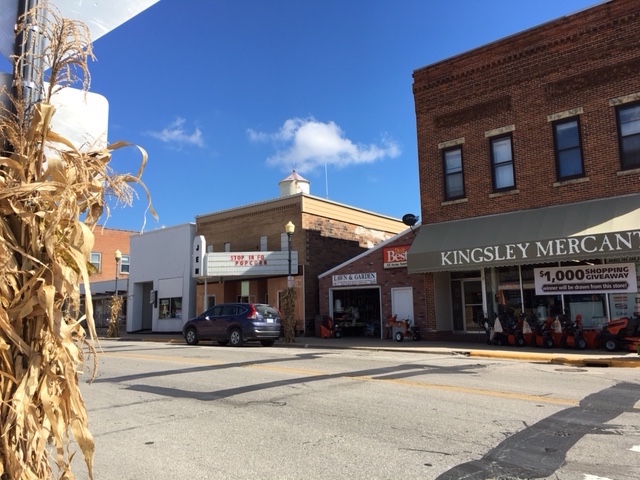 Dear Beauty,
I'm writing to you from Harmony. Not harmony, the state of being, but Harmony the town in Minnesota. I wasn't born here, but most memories of my youth took place within a fifty mile radius of this place.
Last Friday night we watched the movie Sully at Jem Theater on Main Street. As we approach the entrance of the theatre, the unique smell of Jem popcorn greets us. A flood of memories remind me of movies like West Side Story, date nights with old flames (since extinguished), and how fun it is to be young.
Saturday we attend an open house for Kingsley Mercantile Inc. (located right next to the Jem); the Kingsley's 15 years in business celebration. Jane smiles as she reminds us that 9/11 preceded their grand opening, filling them with doubts about a future of the store.
I recognize the feeling. When our family moved to the farm in Harmony in March, 1960, Mom added a post script to the standard Catholic meal prayer: "We pray for our success on the farm.†My parents farmed for many years, but back then, they had doubts about "making it†on the farm. With a family of five and three more to come, it was risky business.
After shopping with my sister-in-law, Ellen, we decided to stay for the free lunch being served by Jane's sisters. We still call them "the Hoag girls,†even though they are not girls anymore. They grew up on a farm a mile east of us. Our mothers spent hours on the phone (this was after we all grew up, of course) and I babysat for the Hoag kids.
As I spoke to them, they transformed into the children I once knew. I can still remember the careful instructions their dad gave me about not washing the popcorn pan, even thought it looked like it hadn't been washed in years. He was right because it was great popcorn! (Hmmm, my second popcorn memory).
Everywhere I step—the sinkhole display near the hiking trail, the brick high school building standing proud, the drug store where I got my cherry soda and pretzels—all these places hold memories. In fact, the memories are almost visible. Ghost-like shadows of people gone by give me a vision of my past in a very real way.
Where are those places for you? In a home or a town or a field? Where did you grow up and first learn about the world? An important part of your history has a place. If it's not possible to actually travel there, I'd suggest you daydream until you feel you're there. You'll be surprised how many stories come back to welcome you.
And while you're at it, record them in some way, or it's lost forever!
May you share your memories and lessons with those you love,
Jan
PS. The workshop coming Oct. 20th is going to be an amazing way to tap into your past, connect the dots and motivate you to write your story. Sign up here! http://www.eventbrite.com/e/character-safari-the-first-steps-in-writing-your-story-tickets-27963583832
This is what others are saying about their experience:
"Love the sharing of everyone's stories.â€
"Writing a life story is easy with this organization. Easy-peasy!â€
"It made me realize I knew more than I thought. I'm not so bad after all.â€
"Very organized in presentation and it was a great structure for writing life stories.â€
" It was a healing how-to workshop. I named my fears and forgave.â€
"Jan was open to our suggestions and stories. She has wonderful ideas.â€
"I liked everything about this workshop. It filled in the gaps for me.â€