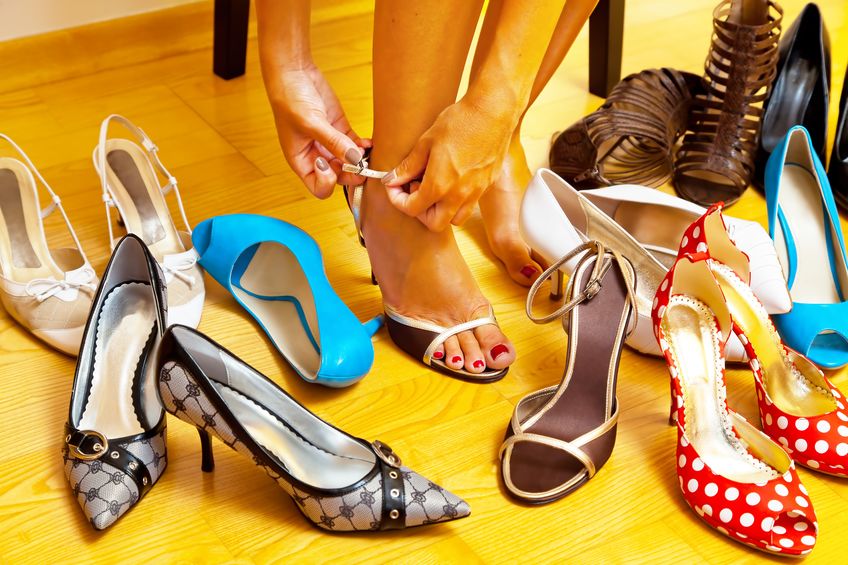 The West Valley Women's sponsor for the day gave an empowering talk. Karianne Munstedt (Karianne Munstedt Portrait) showed her amazing photographs, reminding us that "these are more†than pictures. Her message rang true for the women present at the West Valley Women's luncheon, and I was reminded that a shoe story—my favorite kind of story —is also "more."
Great shoes were to be seen everywhere because it was the day of the "Fabulous Footwear Contest," an annual event of West Valley Women. It's a day of eye candy—with fierce competitors as well as spectators. Lisa Platt, President of West Valley Women likes to spice-up the August meeting with this contest, and a huge part of its success is due to Judge Jeffrey Hattrick (Live Light Coaching), comfortable in his own stilettos. (He could actually give lessons to teenage girls at prom.) Seasoned at detecting amazing shoes, he selects winners in five categories. The winning shoe stories are fascinating.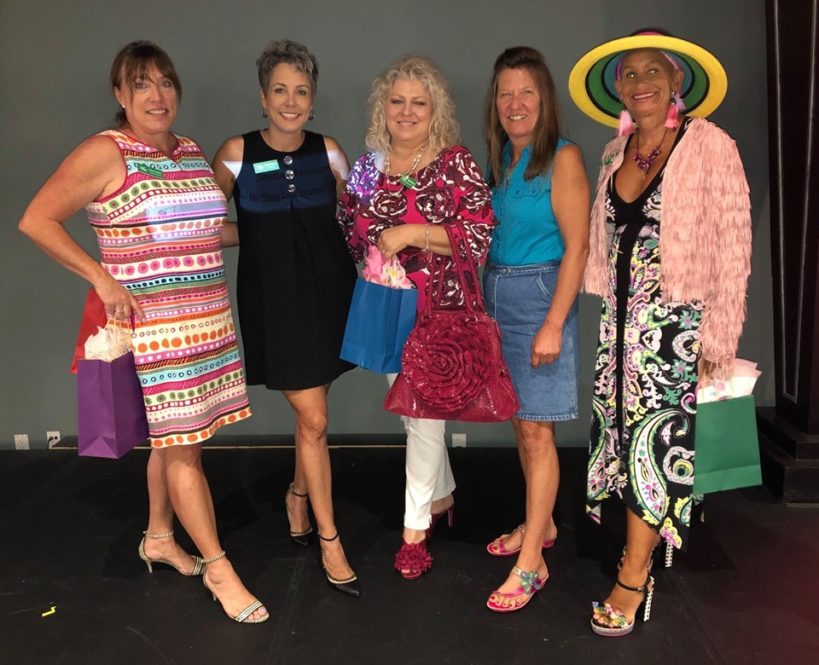 Fabulous Footwear Contest Winners: Adrienne, Kathy, Nancy, Ann, and Reba
Adrienne McGill's shoes were selected as "Most Beautiful.†Adrienne (Adrienne Clarisse) tells us, "I purchased the shoes more than five years ago. They were a bargain find on a clearance sale rack at a department store by Coach. ( I didn't even know Coach made shoes.) I decided to wear them on Tuesday at the last minute because every single time I wear them, I get compliments. As I left the house on Tuesday, I cheekily said to my husband, "I'm going to be one of the winners in a shoe contest today.†And she was right. Jeffrey noticed how the fabric and stripe of the shoes complimented her dress.
Kathy Knecht, (Candidate, AZ House of Representatives), winner in the category of "So Sassy,†had a different kind of conversation with her husband before she left home: "I went to my closet looking for something that stood out and they called my name. I've had those shoes for some time, and they are quite sassy. [Ah, she knew!] As I left the house my husband raised his eyebrows and said, "Where are you going?†Clearly I had some 'splainin to do. After all, it's not my usual attire for a women's luncheon. It was fun to dress up in the middle of a weekday. I appreciate the opportunity to network and have such a fun time with amazing, well-shod women in the West Valley.†I can see why those shoes won!
As soon as I saw Nancy McCutcheon's shoes, I thought to myself, Those hot pink shoes with the ruffly embellishment should win something, and sure enough, I was right. Because I was sitting so far away, I didn't realize that her purse and blouse echoed a rose theme, crowning her winner of "Completes the Outfit.â€Â
Here's her story: "I am a shoe person so I am always on the lookout for a great pair of shoes. On July 4th I was out shopping for shoes with my daughters and came upon those shoes at Dillards on one of their special 65% off sales. I thought, These are absolutely adorable but I can't think of what I have to wear them with, but I couldn't get them out of my head. I shopped two other Dillards stores that next week, and even phoned one store to ask if they could look in the 65% off sale racks for the shoes. They did and there they were. A clear sign to get those shoes!
"After getting dressed the day of the meeting, I found a purse in my "purse cabinet" that was a perfect match. I was excited all morning at work. I kept looking at the clock, but when it was time to leave, I was in the middle of working on something (I work at Virginia G. Piper Cancer Center) so I couldn't leave. I knew I'd be late.
"I came in right as the opening announcements were being made. Someone at my table asked if I'd walked by Judge Jeffrey to make sure he saw my shoes and I said, "No, I can't do that.†So one of the women at my table made sure he saw me—and you know the rest of the story.†Don't you just love the way women cooperate while they're competing!
Some of the winners shopped their own closets and some were more "intentional†as Judge Jeffrey pointed out. Ann DeVlaeminck (Southwest Lending Closet), winner in the category of "Most Practical†reveals her intentions: "I just love talking to Jeffrey, and last year I apologized for wearing a pair of blue flats, and explained that with my work, I can't wear high heels. But I left the meeting saying to myself, Why apologize? You could have tried harder.
"So I decided to look for a pair of shoes that might win in the most practical category. About six months ago, I found these funky, fun sandals at DSW, so I bought them, but saved them for the contest. I even showed Jeffrey the bottoms—all shiny and new. I will wear them a lot because they're so comfortable—and they remind me that I can set goals and reach them.â€
There was one more category—"The Judge's Choice.†Jeffrey admitted that Reba (Lisa K. Mason of Reba's Vision) has been an annual winner, yet her shoes were amazing and despite her health, Reba shows up. The story of purchasing her shoes explains why we cheer for her whenever we get the chance:
"I had seen these shoes as soon as they hit Macy's shelves. You could say I have a shoe shopping problem—but I shop there once a week and was waiting for them to go on sale.
"That Wednesday in July changed my life, you see, I am a stage 4 terminal breast cancer warrior. I have an internal pain pump to control the pain and was scheduled for what is called a medication exchange. There was an error in the process and I received a lethal overdose—the medication catheter wasn't closed off and the medication was released into my body.
"That morning before I left home there was a commercial for 'A Macy's Christmas in July.' My original plan was to have the procedure at 9am, drive home, change clothes, and go swimming at the pool. But that didn't happen. The procedure ran late, and I do not remember anything else until I woke up in ICU. Somehow I got in my car and drove (this is the most scary part) to Macy's.
"Somehow or another, I ended up with the three pair of shoes and I planned to wear one of them to the West Valley Women luncheon. To save my life, I don't know what category I thought they might win, but I do remember four amazing angels: Amy, Priscilla, Claudette and Rosy who performed CPR on me for 13 minutes as I went into my overdose. My heart completely stopped and I was not breathing—these women saved my life.
"They say God works in mysterious ways. Well, God made sure I went to my favorite store to buy these shoes, and met these amazing women who I will never ever forget in my entire life. I always said that the angel wings on my car represent my mom and my mission now the angel wings on my car represent five women, plus one amazing department store that makes sure their employees take CPR classes. I will now wear these shoes proudly and I will never let them go—as without shoe shopping at Macy's, I would not be able to tell you my story right now.â€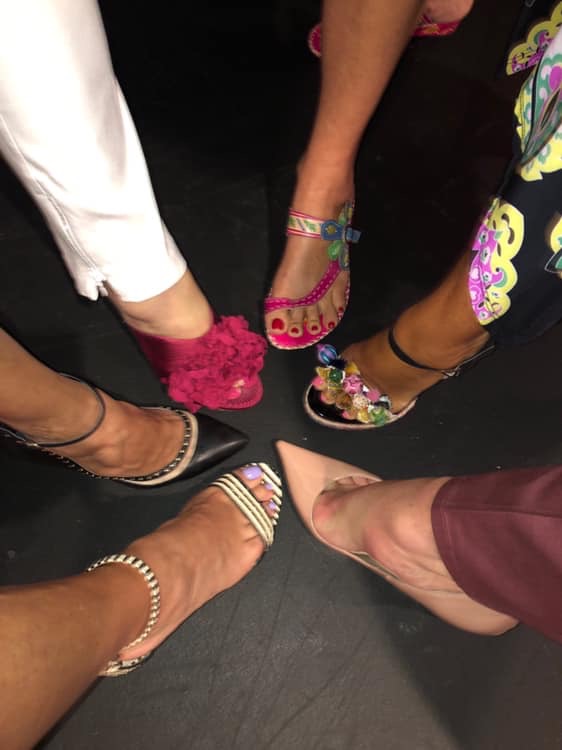 So there you have it. New shoes, shoes on sale, confidence builders, shoes with an attitude, shoes that saved a life. We not only love the look and feel of our shoes, we tip our hat to Lisa Platt for providing this fun opportunity for the West Valley Women to celebrate amazing footwear.
If we pay attention, we see that shoes unlock the essence of our values, thoughts and the other vital "stuff†of our lives. The "MORE" of the shoe stories brings us closer to understanding ourselves in a way that's way more interesting than any classroom.
Shoe on, women.