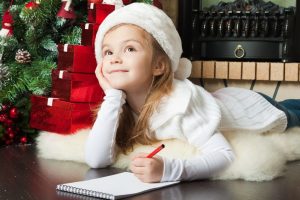 Dear Santa,
How are you? I am fine. I've been mostly good this year and so I'm pretty sure you'll be coming to my house, although we don't have a chimney. So I don't know how you're going to break into our house—but you seem to know how to do it every year. So I'll just leave that up to you. I only have four things on my Christmas list this year. They may not even fit in your sleigh, but I'm going to ask anyway.Â
Here they are:Â
I want to be SAFE more than anything, and I want the same for others too. Not just people I know, but everyone. That's a big order, but I'd be super happy if you'd do this for me. Okay?.

Â

Please bring me a bag of CURIOSITY. I find that when I get curious about people, I start to listen to them and I learn stuff. The world is so big, and I have so much to learn.

Â

Also, I want you to bring TIME to people in my family. That way we can really enjoy each other and with that free time, who knows what we can create together?

Â

And last on my list: please bring COURAGE to me and my friends. With this gift, we will be more likely to ask for what we need, do what we need to do, and be the cause of good things in the world.

Â
Santa, thank you! I know you get a lot of requests this time of year and I'm hoping that you bring me a few of what's on my list.Â
You are the BEST!!
Love,
JanÂ
P.S. I made the cookies myself. Enjoy!Â